Tutorial and How To's
How to do stuff on Zap-Kapow Comics! If you have any questions not covered below, feel free to shoot us a note at
info@zapkapowcomics.com
.
How Do I Add Issues To My Comics?
1. Login. Only logged in users with an Account Plan (any level) can add, remove, and manage their comic collections with in My Comics.
2. Find the title you're looking for. You can use site Search (Note: Only search by title, not title + number), or clicking the thumbnail of any title, anywhere you find it (in Trending, Random, Updated, etc.).


3. Once you find the title you're looking for, use the left and right arrows to scroll through that title's issues, or enter the specific issue number you're looking for at the top of the page.

4. Under each issue you'll find a + / -, click that to bring up a window with a list of summary conditions and prices. Clicking the + adds that condition to your My Comics page, clicking - removes it from the page.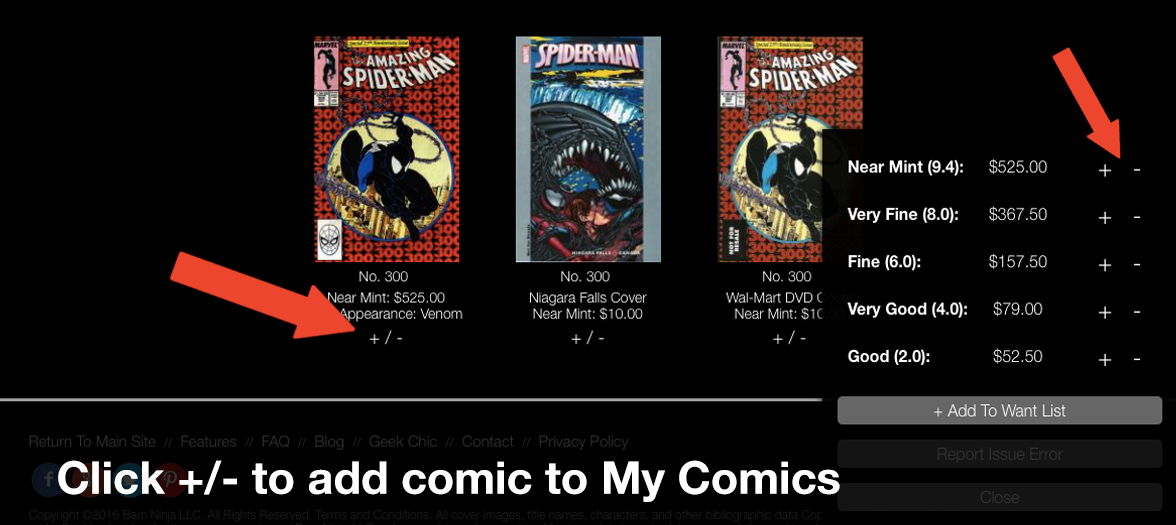 Issues anywhere on the site that are in your collection are noted with a (x1) next to them. To add more than one issue to your collection, just hit the + sign again and the x1 becomes a x2!
As values change for your added issues, your My Comics collection is automatically updated to reflect the prices associated with your current Price Guide.
5. You can also click any issue's cover thumbnail to view a more detailed listing, including a Full Price Guide with conditions from 10.0 to 0.5. The same +/- icons are available to add or remove an issue to your collection there as well.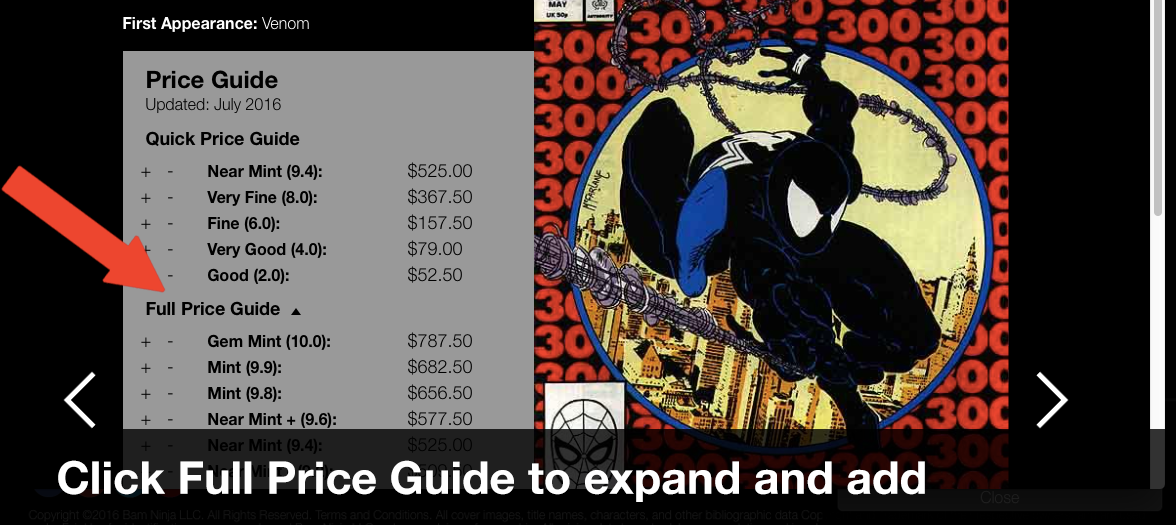 How To Mass Add A Run Of Issues To My Comics?
1. Login.
2. Find the title you're looking for (see "How To Add Issues To My Comics" above).
3. At the top of the page under the name of the title, click the Mass Add Issues (or Mass Remove Issues).
4. On the next screen, simply enter the range of issues you want added and hit the "Add" button. By default, issues added in this way are added in Near Mint (9.4) condition.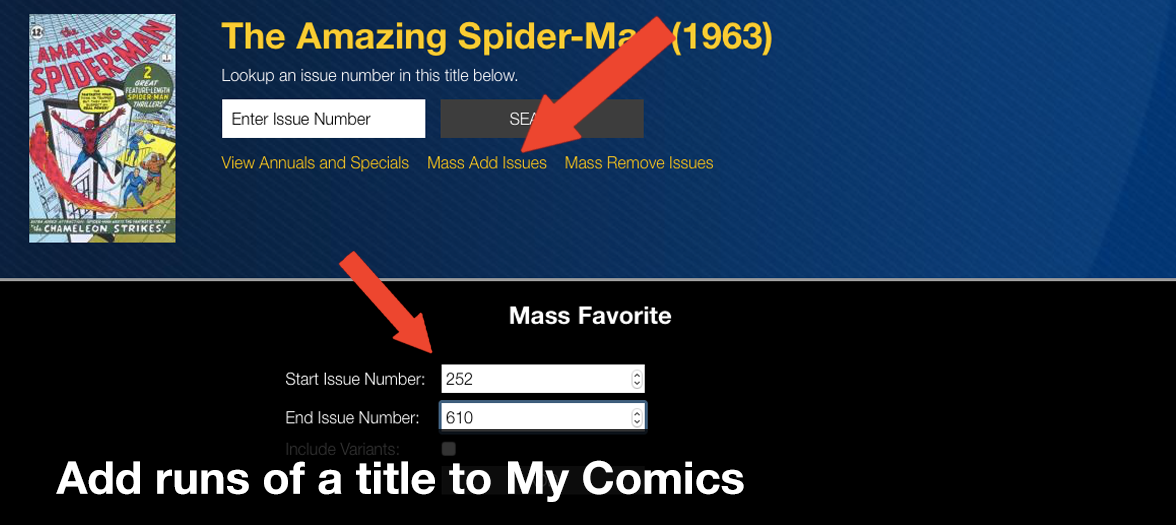 What Does My Pull List Do?
At the top of the page under the name of the title, click Add To Pull List (Golden Age accounts only), and that title will be added to your My Comics area as part of your Pull List.
Any regular (non-variant) issues of titles that are part of your Pull List, will automatically be added to your Collection when new Zap-Kapow Comics price guides are released each month. No need to search for and add those individual issues manually!
You can also print your weekly Pull List and take it with you, perfect for handing over to your LCS when you're adjusting your real-world pulls.

How And When Do I Update My Price Guide?
Zap-Kapow users enrolled in the Silver or Gold Age Plans are automatically given the latest price guide updates when they become available, usually around the 1st of each month. They do not have to do anything to receive these updates, which include the past month's newly released issues and price guide changes.
Bronze Age Plans may pay as they go for price guide updates, but ARE NOT REQUIRED to update each month. In fact, Bronze Age Plans may skip as many months of updates as they want, and when they do finally update will be brought current, receiving everything released since their last Price Guide update for the same 99-cents.
You can read more about how Price Guide Updates work for Bronze Age Plans here.
When a new Price Guide is available, you'll be alerted with a note at the top of the website when you login.
To purchase the current Price Guide at any time, visit your My Account page or on your My Comics page under the Print/Download button.

How Do I Change My Default Price Guide Currency?
In your Settings (Golden Age Plans only) select from the available currency options. Anywhere you see pricing on Zap-Kapow Comics will be displayed in the chosen currency, converted from the U.S. dollar.

Why Can't I Use My Smartphone Camera To Search For Issues?
The issue lookup feature using your smartphone's camera is only available to Golden Age Plan users. On iOS devices, you'll need to use Safari on iOS 11 or higher. On Android the camera lookup option works with the latest versions of Chrome or Firefox.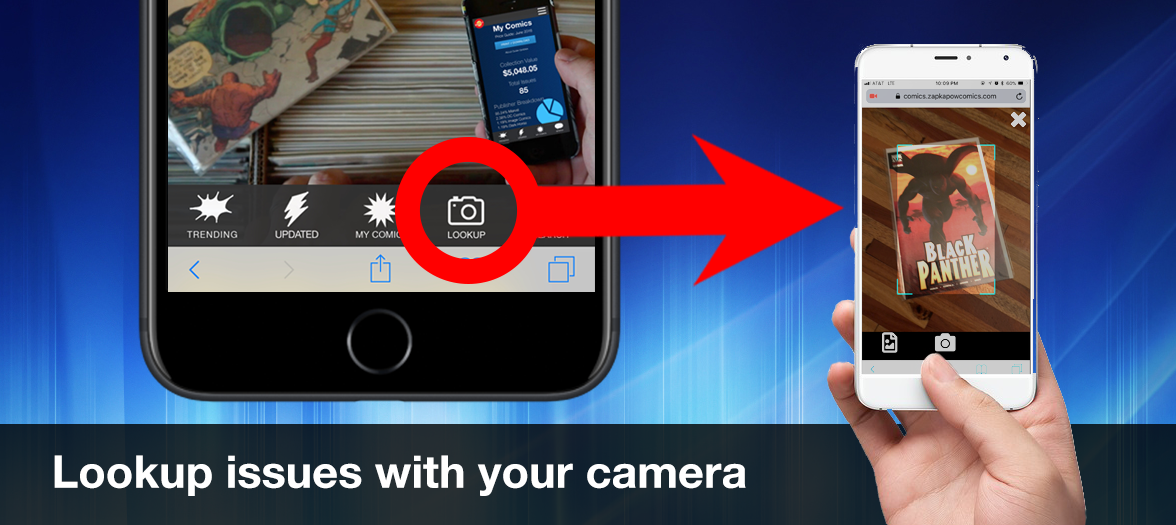 When taking a photo of a comic book cover to lookup, make sure to have minimal glare and place the camera's corner cropmarks as tightly as possible on the issue cover's corners. If a result is not returned, try adjusting the photo some and try again.
How Do I Change My Zap-Kapow Account Plan?
Visit your My Account page and hit the "Upgrade" link next to your current plan. This will take you to the Plans Page where you can select a new plan. Please note, plans only move up (from Bronze to Silver to Gold), not down, and are pro-rated based on the plan level you are coming from.