Welcome To
Zap-Kapow Comics
What Are Your Comic Books Worth?
Need to know what your old Superman, Wonder Woman, or Batman comic books are worth? Need a price for your Amazing Spider-Man, Avengers, or other Marvel Comics? Trying to buy or sell your comic books? Looking for variant covers to recent Star Wars issues? Whether you are a new user, or one of the 25,000 migrating over from our iOS app, the all-new Zap-Kapow is ready for you.
Zap-Kapow is an online comic book price guide. We have been surveying prices for comic books online, and bringing them to iOS users, since 2009. Needless to say, a lot has changed since then, including how our users want to use Zap-Kapow. We heard (and heard, and heard) from our users that they loved Zap-Kapow's comic book price guide at their local comic book shops, flea markets, garage sales, and comic cons to find comic book prices and references, but something the original iOS app was never intended to do was also something everyone wanted; full collection management.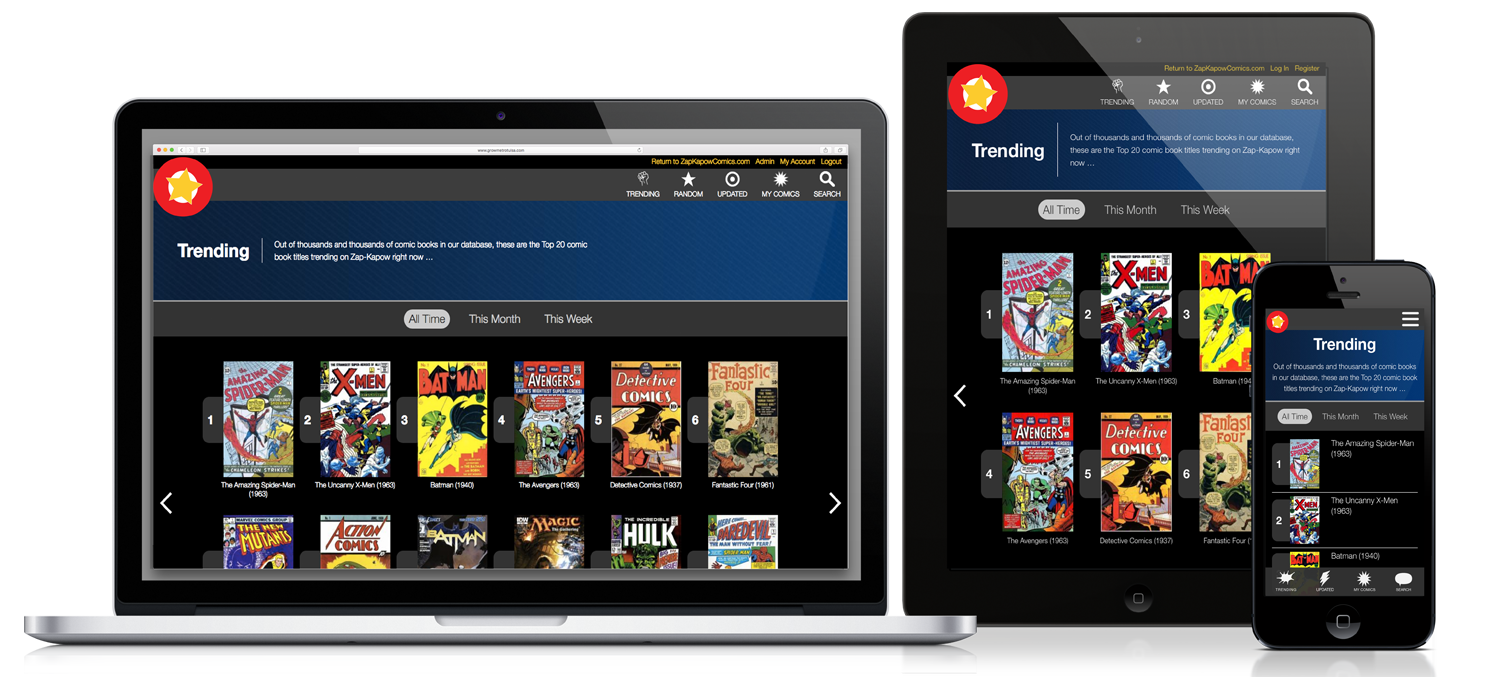 Comic Book Price Guide and Management
With the new Zap-Kapow, we are finally giving users the ability to add, manage, and print your FULL comic book collection, tied in with our digital price guide engine.
The entire app engine has been rebuilt from scratch, for even more devices and operating systems (welcome Android, OSX and Windows users). Anyone with access to a mobile or desktop browser can now enjoy Zap-Kapow!
So if you're new to Zap-Kapow, get started by clicking the Sign-Up link above and then picking a Zap-Kapow account plan that works for you. If you have previously purchased the iOS version of Zap-Kapow don't worry, we have you covered. You can migrate your account over to the Bronze Age Plan for free using the steps below.
Welcome to the new Zap-Kapow Comics.

How To Migrate Your iOS App Version*
Create an account using the Register link above.
After your account is active and you're logged in, click the My Account link at the top of this page.
At the bottom of your Account page, migrate your iOS app's favorites (one-time export) and verify your iOS purchase by going to settings in your iOS app and entering the ID shown there (found in the iOS app under Settings > About Zap-Kapow > scroll to the bottom) into the User ID field here.
Done! Bookmark this website and add its web icon to your device's home screen or favorites, and use it to manage your full comic book collection.
PLEASE NOTE: Migrated Favorites from iOS version of Zap-Kapow are placed in the Want tab in My Comics here.
Your migrated iOS account gives you Bronze Age access. To upgrade your account, click My Account and change your plan.
*If you purchased your iOS version of Zap-Kapow after July 1, 2016 please contact us at info@zapkapowcomics.com
The iOS App's Future
The iOS app in the Apple App Store does NOT tie back to this website. For the time being it will continue to work, but anything you add there as a Favorite, or any price guide updates you purchase there DO NOT carry over to this web app. Eventually, the iOS app will be retired in favor of the version of Zap-Kapow you are on now. We recommend you use this version for purchasing price guide updates and creating favorites lists exclusively.